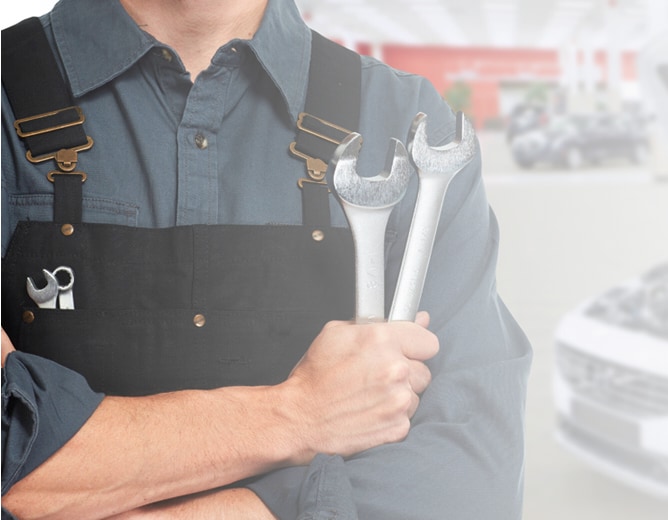 Maintenance for your brake system plays a vital role in keeping you and your passengers safe while travelling. That is why Car Pros Volkswagen of San Bernardino in California wants to help you to be sure your Volkswagen is ready to take on all of your plans with confidence. Our team of professional service technicians is proud to serve our Riverside, Moreno Valley, and Pomona, California neighbors.
There are several key components to your brake system that must work together in order to ensure your vehicle stops in a safe and timely manner. One major element is the brake pad, consisting of friction material bonded to a steel backing plate. The frictional material on the brake pads is forced against the inner and outer surfaces of your brake rotor and the resulting friction causes the wheels of your vehicle, allowing for a controlled stop. Over time, this friction material of the brake pads and the brake rotors errode.
There are numerous warning signs that it is time to have your brake system evaluated. Some of the warning signs include:
Brake pedal requiring excess pressure

Brake pedal feels spongy or presses farther down than usual

Slow brake pedal response

Vehicle pulling to left or right when braking

Car requiring longer distance to stop than is typical for the vehicle

Unusual vibrations or noises when braking

Grinding, squeaking, or squealing brakes

Steering wheel is shaking

Car wobbles or pulsates when driving at highway speeds

It has been over 12,000 miles or 1 year since the last time your brakes were inspected

Brake warning light on dashboard comes on and remains on

Your vehicle is close to or beyond the number of miles your car's manufacturer recommends between brake fluid exchanges
Are you ready to schedule your next brake service appointment at your local Volkswagen dealership's service center today? You can also check out our service coupons to learn how you can get great prices on a variety of services. Visit the Car Pros Volkswagen of San Bernardino Service Center at 1600 S. Camino Real, San Bernardino, CA 92408 or call to speak with a member of our service team at (909) 326-7735. Our service hours are Monday-Friday 7 AM-6 PM and Saturdays 8 AM-5 PM.